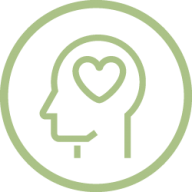 OUR BRAND APPROACH
Winning (and keeping) hearts & minds.
At Able&Co., we believe that your brand should be at the center of everything you do. While many like to focus on the trappings and signals of a brand, such as logos, taglines or mission statements, we understand that your brand goes much, much deeper. We believe that to win hearts and minds your brand must offer a promise to a specific audience fulfilled in your own unique style that is market-relevant and unlike your competitors. When you are able to bring these things together you are able to occupy a special place in the mind of your audience – a unique place where all these things intersect and only you can exist.
Once you have mindshare, how do you maintain it? This is where the team at Able&Co. really excels. We create brand systems that are built from the foundation to operate smoothly and efficiently. They are scalable and modular, making day-to-day management and updates simpler. Once we have your system in place, we help you leverage your brand for the most impact.
Do you know what mindshare your brand is occupying?
Once you have it, do you know how to use it?