In response to the massive changes in 2020, we offered a series of free webinars. "Back to Basics" features four situations to help you understand your brand in today's environment and help you decide what to do. Our webinars are available to view online at the links below or you can visit theableagency.com/insight to learn more. 
Our first webinar looks at leveraging your brand to mobilize your internal teams and create a cohesive vision. Our second webinar covers what to do if your business is only surviving and offers suggestions to help you achieve growth. Our third webinar discusses what to do if your business is thriving and how to capitalize on your current growth. The fourth and final webinar addresses whether your branding and positioning still resonates in a changed marketplace and whether adjustments are needed. In my last blog we discussed the first reason — rebranding in spite of the pandemic.  In today's blog I'll discuss what to do if you need to rebrand  because of the pandemic.
As some of the dust settles at the end of 2020, if your company has survived, congratulations! Many long-standing brands have been forced to close up shop or drastically decrease their reach. Just surviving the challenges of the past year is an accomplishment. 
But it's time to look at 2021 and decide how to continue. The world has just changed too much, and you need to change along with it. Many of the changes that the pandemic, economic turmoil and social unrest have brought to our lives are permanent. These occurrences accelerated what was already happening, such as the rise of virtual versus face-to-face transactions. These changes were adopted rapidly in the first quarter — and you may find you needed to adapt your brand to keep up.
In our last blog we looked at two situations: companies who make a brand shift in spite of the pandemic, and companies who make a brand shift because of the pandemic. We reviewed two organizations that decided to go forward with planned brand updates and saw great success. These are indications that it's time to shift your brand:
Have you added new services or changed your purpose?
Have your audience needs changed?
Has competition shifted?
Has the market changed?
Does your brand fit the new normal?
Let's look at two more companies who made tweaks or additions to their branding that were in response to, or influenced by, the pandemic.
Embracing Change
When the stay-at-home orders shut down fitness centers, online fitness very quickly rose to prominence as people sought to maintain their workouts at home. For most fitness brands this meant adding an online component to their offering, with many scrambling to effectively retain their audience. Some businesses fared better than others.

Orangetheory is a fitness brand tied to a deeper concept than just a physical facility. It is a philosophy of HOW to approach your workout and a METHODOLOGY for doing so. This gave the company a unique perspective and opportunity in the online space to take that methodology and show how to get the same type of workout at home. While many online workout experiences varied by the instructor, putting the emphasis on the instructor's personality and approach, the Orangetheory At Home model became an online extension of the company's method. This branded approach and method lent an air of permanence and evolution to their online workouts. Positioned as "Home Workout backed with Orangetheory Science", the focus is shifted to the intellectual property of Orangetheory. 
"The pandemic only accelerated our evolving business model to be a hybrid in-studio and digital fitness brand," CEO of Orangetheory Fitness, David Long, told FOX Business." The At Home workouts have allowed for people to try Orangetheory in the comfort of their own homes and see what we're all about."

"There is no shortage of digital content out there," added Kevin Keith, chief marketing officer of Orangetheory Fitness. "There's a shortage of motivating, consistent, results-driven content. So we wanted to really take the ingredients that made our studio experience successful and try and bring that to the digital environment."
Evolving The Course
When the pandemic hit, Citrix was in the process of executing a planned rebranding. Like the brands in our first blog, they did not let the pandemic deter them. However, due to the timing of their launch, they had the opportunity to fine-tune the messaging for a pandemic and post-pandemic world. Citrix created a brand story that feels like a natural evolution of the brand, and also a natural evolution that accounts for the current environment.
Citrix is known for creating software that drives remote collaboration and work regardless of the device or network. When a brand that has been at the core of the work-from-anywhere movement for 30 years decides to rebrand during a pandemic, no stage could be a more appropriate setting than the major shifts happening in workforces around the globe. As the work-from-home model has been thrust into the mainstream, what could have been a quiet rebrand, suddenly takes on a new, almost prescient tone.

The new logo creates a human-inspired shape that puts the power of the network into personal hands. A new brand statement proudly declares "Imagine what's possible when your technology gives people the space they need to do their very best work."
Again we see how the pandemic shaped or hastened the approach to the rebrand. David Henshall, President and Chief Executive Officer of Citrix, provides insight.
"Today, we unveiled fresh thinking about what employee experience in a pandemic world means, along with a new brand identity to support it. We're transforming our business to not only provide secure access to what people need from anywhere, but to enable organizations to deliver an employee experience that people need to do their very best work.
Transforming our brand has been a thoughtful process over many months — starting with accelerating our shift to a cloud subscription model to launching the industry's first intelligent workspace. The shifts caused by COVID-19 have accelerated trends we were already focused on — especially when it comes to the role of technology in employee experience. It's highlighted the need to give people the mental and emotional space to do their best work."
Do you need a little help or a lot? If it's hard to tell, a meeting with our team will help you analyze key areas that affect brands in 2020 as we go into next year. A rebrand assessment looks at these changes to these elements that impact your brand:
Audience
Vision/Mission
Services
Market
Leadership/Ownership
Crisis
In my webinar, if a rebrand is required, I discuss three approaches to shifting your brand for success:
REVISE makes minor tweaks to brand signals to align with the times. This is generally an update in messaging and values, perhaps acknowledging a new service, or another type of extension that still honors the foundational aspects of your brand. We may recommend making small changes to add additional brand assets that meet today's needs. Brand revisions are typically assessed and executed in as little as a month. During Q4 of 2020, a REVISE can give your brand a new "spring in its step"  as we approach the end of the year.
REFRESH addresses more severe issues with your brand when your core offerings and services need to appeal to a wider market. We take a deeper dive to update visuals and copy to ensure your brand and assets work together to promote your business in a memorable way. This modernizes a look and feel to better resonate with your audience. Messaging and visual language is refined to better reflect the changing cultural climate. A REFRESH generally is completed in 1-3 months. Start now, and we could have you ready to meet the world with a fresh face for 2021.
REDO. If this year has changed your brand at the foundational level, you may need to go to the core of your brand and see what still works. Investing in a professional external resource is an investment in your future. Time is of the essence, and your customers will appreciate that you listened to them. This process may take 3 or more months, but when your brand is ready to launch, you will be poised for success.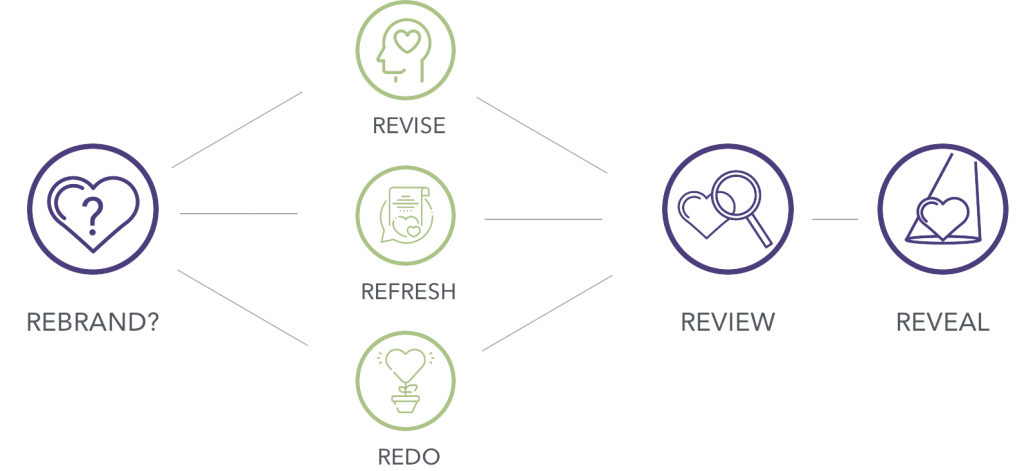 Where to Start
The decision on whether you should or shouldn't rebrand and when to do it is a big one. Preparing now means that you are ready to go when the time is right (even if that isn't right now). 
Our team helps clients navigate the questions surrounding a rebranding. Our approach analyzes changes in your audience, market, competition and offerings and is the foundation for a strategic plan that supports a minor tweak, a bigger shift or a complete change to your brand. We also listen to the cues in the marketplace to help you know when the best time is for launch. Give us a call to discuss how your brand is responding to the changing times.