Vishay Precision Group, Inc. (VPG) is a globally recognized designer, manufacturer and marketer of resistive foil technology, sensors and sensor-based systems to niche industrial applications. Their solutions are marketed through their acquired companies, who are well-known and recognized in their particular markets.
When I worked for VPG, our business units' headquarters were located all over the world, each with their own marketing communications brand messaging and objectives.  As a global marketing communications service, my MarCom department supported each one, assisting with plans, budgets and schedules.
Occasionally, more than one business unit collaborated to attend the same event. In 2018, we began planning for the 2019 METEC trade fair, which occurs once every four years, in Germany. METEC is the most recognized show in the steel industry and is one of the most important shows for KELK, located in Canada. Our BLH Nobel business unit, located in Sweden, promotes some of its technologies to this market too. The international show's logistics for both divisions would be coordinated through my department, in North Carolina.
Although the tradeshow specifications were not yet available, we reviewed the 2015 budget for both business units and adjusted our 2019 forecasted budget to accommodate for inflation and a larger booth.
Challenge
One way the MarCom department managed so many business units efficiently was through the use of templates. Our tradeshow templates worked well for smaller booth sizes that featured one business unit. In reviewing the 2015 METEC photos, it was clear that there was room for improvement.
We needed to clearly indicate that there were two brands, offering different technologies and solutions
The 2015 booth's structure and poster-style graphics did not represent the modern, forward-thinking or innovative look and feel the KELK and BLH Nobel wanted, especially compared to other exhibitors
In addition to improving on the previous booth's brand experience, senior leadership from both business units indicated that the 2019 booth graphics and floor plan needed to reflect the percentage of spend that each business unit contributed.
Keep Calm and Tame the Elephants
I've found that keeping the end in mind while also keeping an open mind enables the freedom to explore other pathways towards achieving the objectives. The creative problem-solving for METEC's particular requirements meant scrutinizing the budget and the tradeshow templates to see if they were serving our needs. In these types of situations, when you're a service group, it's also critical to have credibility and trust with your customers, because it's THEIR budget, THEIR brand and THEIR objectives that is being entrusted to you. As a brand steward and subject matter expert, it's incumbent upon you that the solutions that you bring to the table pass the litmus tests of all of the standards that exist. It makes it easier for your customers to explain the solution, and it's an opportunity to improve and strengthen processes, not break them.
Because our shows occur all over the world, the general practice is to rent a booth structure shell, and the graphics are produced by a local company. The KELK, BLH Nobel and MarCom teams all had access to the shell catalog and began narrowing down our preferences. At our selection meeting, the first options presented were similar to the 2015 METEC style. I pointed out that our 2019 booth had unique advantages: the size was much larger, and instead of an inline location, we were on a corner where there were excellent traffic patterns.
Hanging signs were not an option for us, however, one of the shell schemes featured high wall options that could be highly visible within the exhibition hall. Its clean, open structure allowed for plenty of graphics on the walls, plus floor space for meeting areas and our products, some of which were large.
The team could see the benefits of this structure, but it was slightly more expensive than what we had budgeted. I worked with each business unit to review their total 2019 marketing communications budget and see if there were some items that could be re-allocated to the METEC show, keeping their overall budget intact. After all, this show only occurred once every four years – we needed the brands to make a great, memorable impression that would last four years!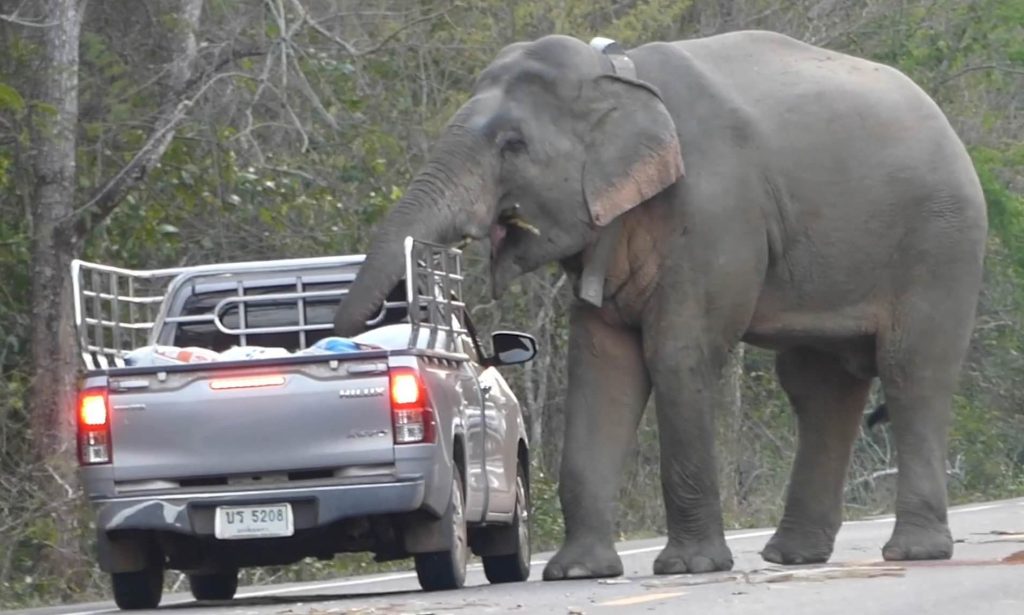 What the Elephants Want, the Elephants Get
Now that we had a fantastic, modern-looking booth structure, we needed to solve the booth decoration. The MarCom's tradeshow poster-style templates were appropriate for a 10' booth but would detract from with the clean lines of the METEC booth structure we selected. The posters also would not be flexible enough to tell the KELK and BLH Nobel brand stories. In addition, we had to keep in mind that each business unit needed to be able to demonstrate their contributions towards the show's expenses, and the wall graphics were a visual way to achieve this requirement.
We knew that one of our tall walls would carry the KELK brand and the other tall wall would carry the BLH Nobel brand. I worked with one of my graphic designers to create a hexagonal shape that would replace the poster. This shape allowed us to create an overall 'honeycomb' appearance that had a clean and modern look that was also unified and cohesive.
The individual hexagon cells allowed the KELK and BLH Nobel teams to collaborate on the number of total cells we needed to tell each brand's story and also demonstrate that the booth reflected each business unit's contributions. Some cells were dedicated to KELK-only products, some cells were dedicated to BLH Nobel products only, and the two teams agreed upon a certain number of cells that both could claim because they both shared those markets.
This design allowed us to integrate the two business units in one booth yet maintain their separate entities.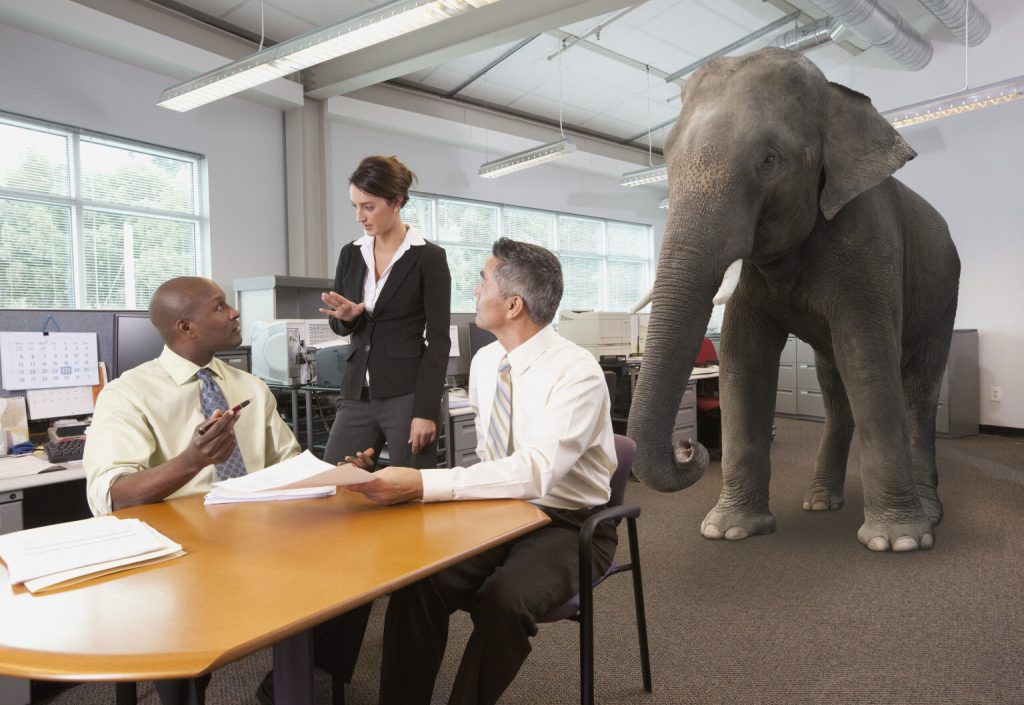 Building Trust & Goodwill
When it's possible, attending a tradeshow is a great learning experience. It allows you to fully understand what setup and teardown is like, what works and doesn't work in the booth and what other exhibitors are doing (not just your competitors).
I've been planning or overseeing tradeshows for decades, so in lieu of attending a show, I'll send other members of my department when possible. For me, I take advantage of the eyes and ears of my colleagues who have attended the show. This requires the intentional practices of active listening and being aware of opportunities to make connections that result in optimized solutions. These are skills that I encourage for anyone, in any situation.
For METEC, our marketers were casually discussing their hotel accommodations, which was a 15-20 minute walk from the convention center. In Germany, many buildings are not air-conditioned, and the weather was forecasted to be hot and rainy during the show.
I thought that perhaps this meant that many attendees would arrive at the air-conditioned convention center, then stay for the entire day. This led to a recommendation to enhance one of our meeting areas by adding charging stations. The area could still be used for informal meetings, and signage was placed to invite show attendees to charge their devices and rest their feet while enjoying coffee or water. We strategically placed this area right in front of our video wall, so that our booth visitors could watch KELK's new product technology video while they relaxed.
The idea was met with some skepticism. I worked with the more seasoned show veterans who saw the potential benefits and understood that this recommendation was low-risk and high-reward as a booth draw, and the team decided to try something new.
Results
The floor space was designed to accommodate shared meeting areas, and we made sure there was enough room to allow for good traffic flow around equipment placed within the booth.
We were fortunate that the booths next to us had lower wall heights than ours – this allowed our tall walls with our brands to be seen from several aisles!
The charging station/informal meeting area worked as planned, with the side benefit that offering such a simple added service exemplified the exceptional technical and customer service both brands were known for.
Both business units were pleased that through a bit of creative reallocation, we stayed within our budget. The booth design energized the teams and functioned well, allowing the business units to achieve the goals they set.
Interesting post-show fact: this was an international show and visitors came to our booth from many countries. At our post-show meeting, I was amazed to find that no matter what country our booth visitors hailed from, there was always at least one VPG representative who spoke that language!
2015 METEC Booth: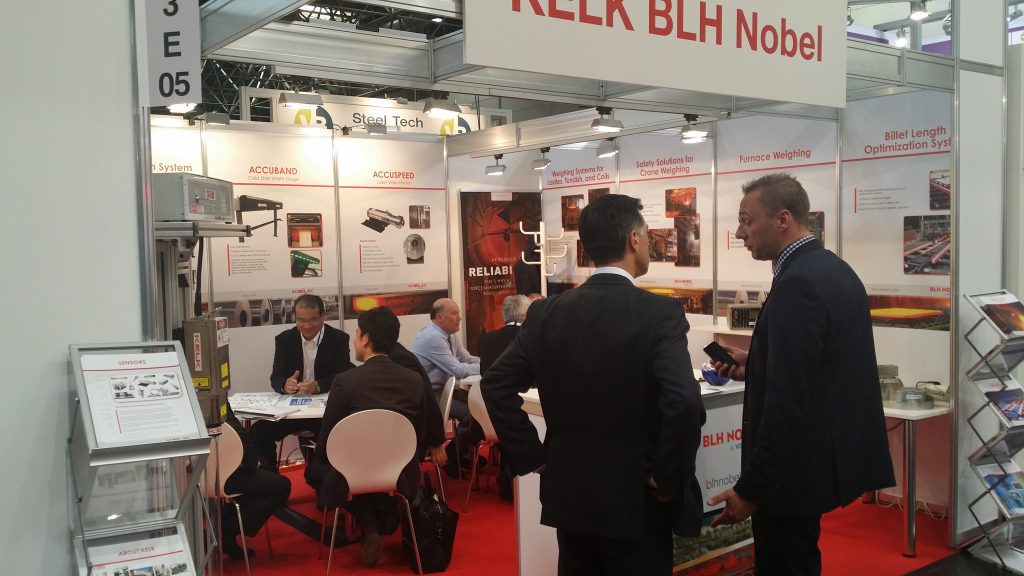 2019 METEC Booth: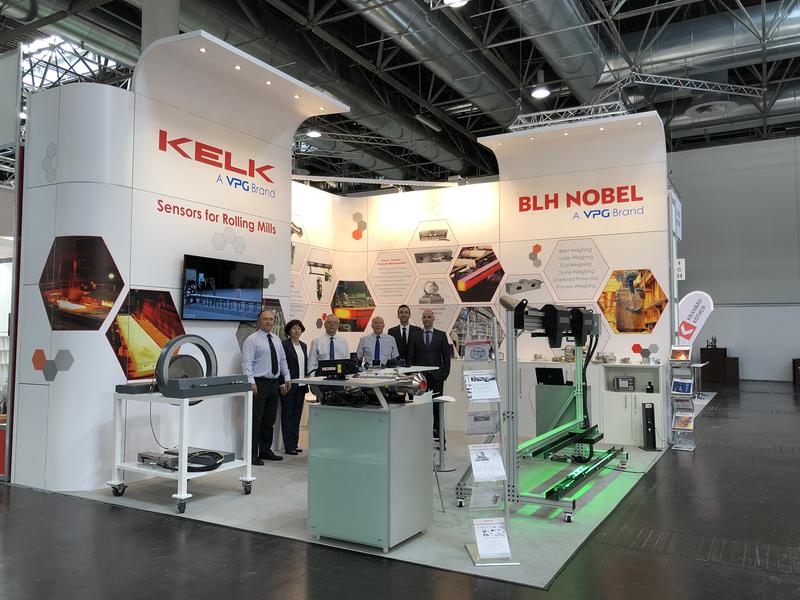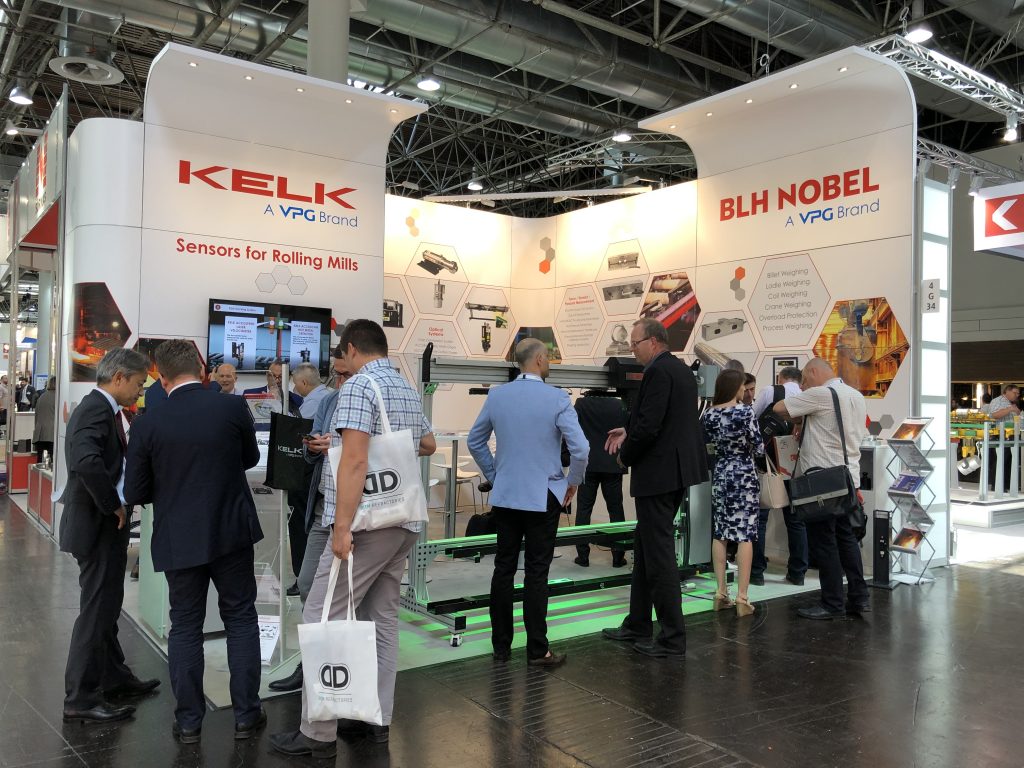 Your Elephants

With the right strategy, you can approach any wild animal. It doesn't have to be an elephant. If you have a challenge that needs taming, Able&Co. is ready to help you develop a plan and solution to meet your needs. Let's connect!