Superheroes, Cocktails and Sports Cars: The Benefits of Image-Based Brand Surveys
If you're like me, you kind of cringe when you're asked to take a survey. 
That's why we try to make the collection of survey data as successful as possible for our clients by staying on top of new trends. One of the more interesting tools we offer at Able&Co. is an image-based survey, which we use to discover MORE about our clients' brands.
Most of us are familiar with the type of image-based survey where you're asked to select or rank several items, such as, which country would you like to travel to this year? Or, rank your top five superheroes.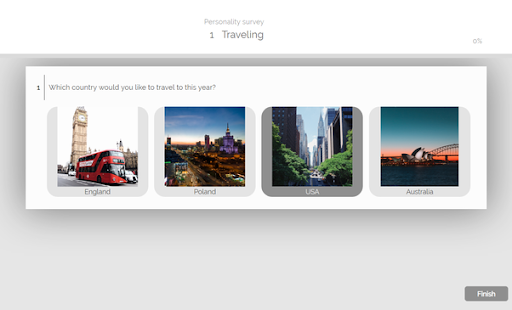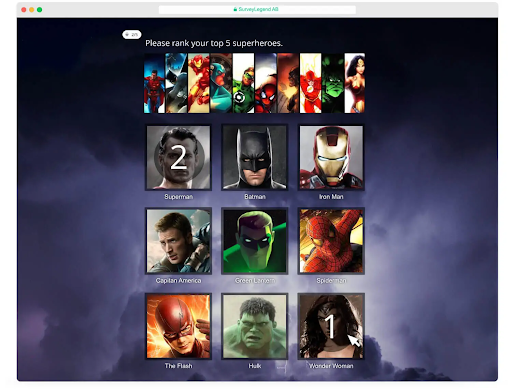 In general, image-based surveys have several benefits compared to traditional data collection tools:
Higher levels of engagement —

image-based surveys are more fun to answer, so you tend to get a higher response rate than you would with a traditional survey.

Higher quality responses —

due to the higher levels of engagement, survey takers are less likely to be bored and turn in straight line answers or randomly chosen answers.

Simple and clearer to understand —

if you ask someone what their favorite shade of blue is, it's helpful to have the color right there to choose from, instead of text only.

More data —

because more survey respondents complete this type of survey, the volume of responses tends to be higher.
A Picture is Worth a Thousand Words
Images trigger an emotional response at a deeper, subconscious level, and survey takers will gravitate toward the image that 'speaks' to them most as their personal response to the survey question. We've found that our image-based brand surveys are unparalleled for uncovering aspects about your brand that you might not discover through traditional methods. 
This approach makes sense when you consider that a brand is all about someone's emotional relationship with the brand. While real, it's intangible and hard to quantify because it's about the feelings around a personal experience or relationship an individual has with the brand, and sometimes there are just no words for that. 
Our image-based survey for brands is customized for each client. In each of the nine categories that we explore, we provide a selection of curated images to trigger emotions. 
It's not that different from asking 'If your brand was a car, what kind of car would it be?', except in an image-based brand survey, we provide images of the cars to select from.
Benefits
Our approach to brand surveys is more holistic than traditional brand surveys, which tend to focus on external attributes. What you might like about our survey is that it includes questions about the survey taker's perceptions regarding the internal aspects of the brand, such as how the organization's infrastructure, or financing, or employees are perceived.
Some people are intimidated by questionnaires that require an essay-type response. They may worry about providing the 'right' answer in front of management, or be uncomfortable about articulating what they feel. With an image-based survey, you're just picking a picture.
The Results
In most cases, the top two images that survey takers choose represent 40-50% of all the responses! 
Intrigued? Give us a call and let's discover what people think about your brand!